ABBA - Thank you for the music
Role: Creative / Art Director / Graphic Designer
Agency: Universal Music Creative Labs
For: Polar Music
Together with Mia Segolson.

In 2014 ABBA celebrated their 40th anniversary. And their fans still adore them. The problem was that the ABBAs are next to impossible for the fans to reach.

I wanted to bridge the gap between fans and artists through a giant greeting card. Setting up a site were fans could write their greetings, which then would be sent to a printer at display at ABBA The Museum. When the campaign ended the greetings were made into four books, given, as a surprise, to each of the members of ABBA.


Both the fans and the members loved the campaign with 10 000+ greetings from more than 70 countries filling 680 pages.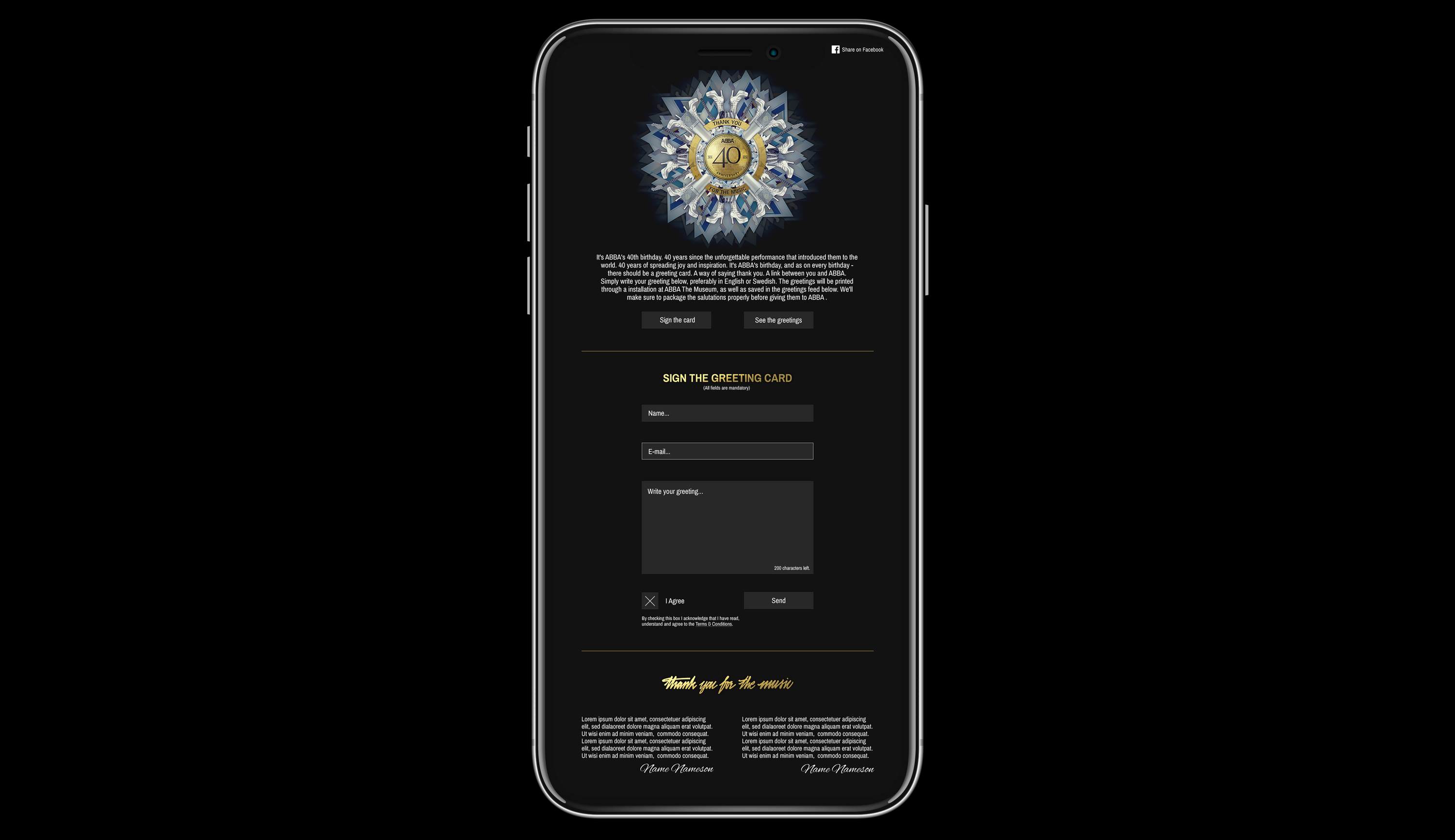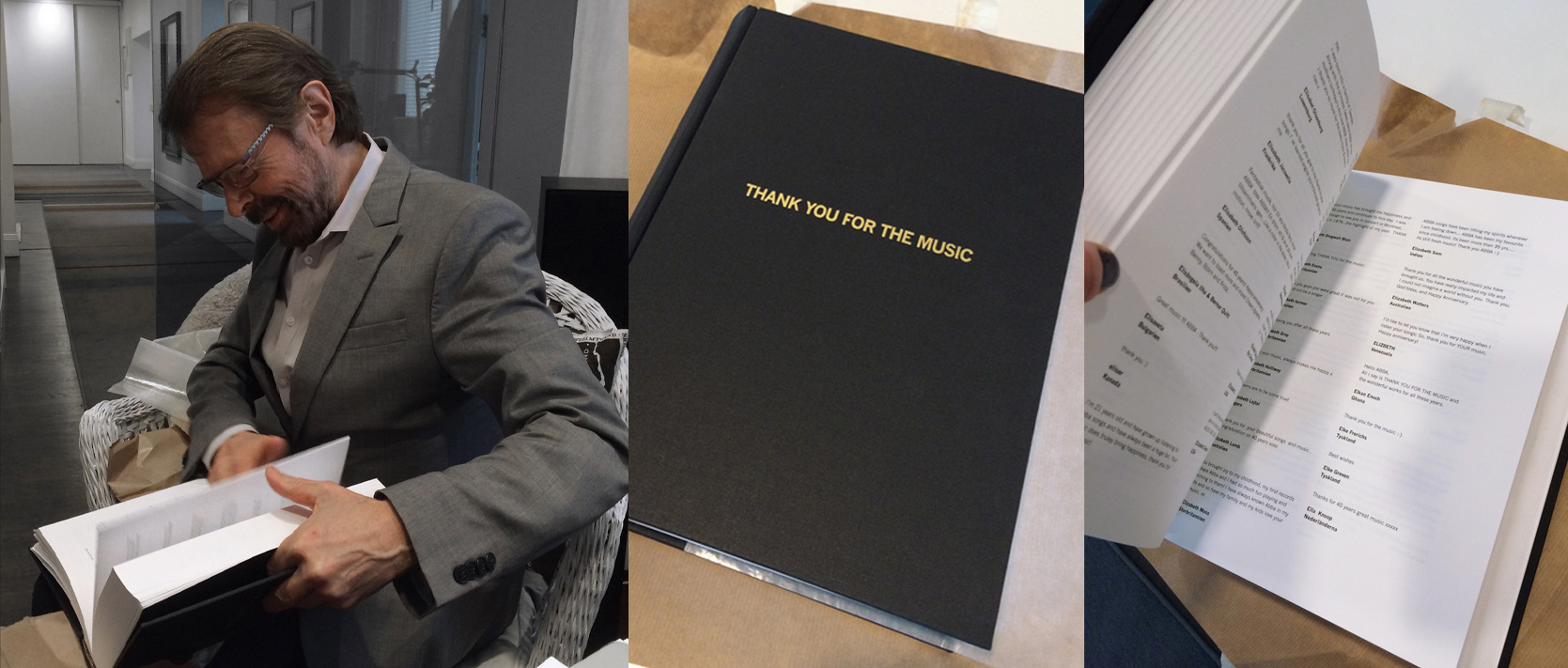 Verionica Maggio -
Ayahuasca

Role: Art Director
With: Daniel Åberg & Ted Criborn
Agency: Universal Music / Creative Labs
For: Veronica Maggio

Veronica Maggio is a Swedish artist famous for her unique lyrics and storytelling. For the release of the song Ayahuasca we made a little game.

To identify 97 words and place them in the right order. Everyone has one guess each.


The site allowed the vocal track to be added in dynamically with each guess. Everyone could see each others guesses in real time.

When they completed the challenge the song would instantaneously be released on Spotify.

At the end of the campaign the final word had 838 guesses, before a 15 year old girl from Gothenburg solved the final word "Sufletten" and unlocked the song on Spotify.
Developed the full concept together with Daniel Åberg & Ted Criborn. It was first realized after me leaving Universal Music.
Nause -
Head over heels


Role: Art Director / Graphic Designer
With: Ted Criborn (Copy) Nils Wester Litens (Video Commissioner)
Film: Brorbror
Agency: Universal Music / Creative Labs
For: Nause


Nause fans take a very active role is Stockholm's nightlife. But early autumn in Sweden is too cold for comfort, so we decided to offer Nause fans something they would truly be happy to receive - a taxi.
The cab was named Taxi 4:55 after the length of their new song 'Head over heels'. People could go for free anywhere they liked, but only the length of the song.

Everything that happened inside the car was recorded and edited to become the official music video.
I also designed the taxi itself.
Game - Respawn Week

Role: Art Director / Graphic Designer
With: Omid Fard (Copy)
Agency: TBWA London
For: Game
Never Published

Easter is the perfect gaming holiday. A full week of doing what you enjoy doing with very few obligations.


Also respawning is a bit like what someone else did during this time of year.

The two designs was made to emphasise the battle scars of a true gaming session. A glorious feeling most gamers recognize.

Happy Respawn Week!
HSB -
Timetravel

Role: Art Director / Graphic Designer /
With: Johan Leandersson (AD)
Agency: Berghs
For: HSB
Won: Framtida Uppslag (Future Spreads) - Gold
Published: Several Swedish Magazines

HSB is Sweden's biggest cooperation that builds apartment houses.
They asked us to create a magazine ad, convincing new parents to start saving with them for their kids apartment.


It was first published in Mama and Papa Magazine. The line translates to "Save in time".

Done together with Johan Leandesson, an absolute treat.